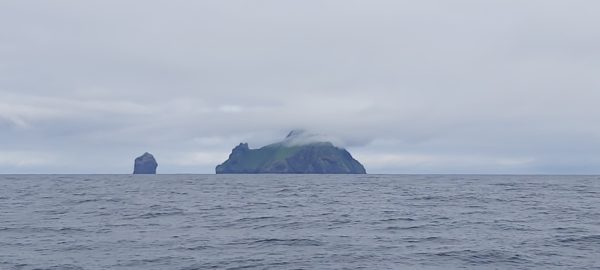 Tha a' mhòr-chuid dhibh eòlach air sgeul falamhachadh muinntir Hiort ann an 1930. Bha mi cho fortanach 's gun deach mi dhan bhuidheann-eileanan seo am bliadhna, cuairt fìor iongantach  Tha na h-eileanan fad a-muigh san Atlantaig, 41 mìltean bho Bheinn na Faoghla agus 101 bhon tìr-mhòir, ach bha clann-daonna a' fuireach an sin o chionn Linn an Umha (tha lorgan ann fhathast), ged a dh'fhaodas nach robh gun stad. Ach chan e an t-astar a-mhàin a chuireas iongantas ort, ach gun do rinn iad bith-beò cho fada ann an àrainneachd cho mì-thorrach is dùbhlanach, fiù 's air a' phrìomh eilean, far an do dh'fhuirich na daoine. B' e sin mo chiad bheachd mar a chunnaic mi na cas-chreagan ag èirigh am meadhan a' chuain, às dèidh trì uairean a thìde bho na Hearadh air bàta luath. Ciamar a rinn iad e?
Ach rinn iad am bith-beò gu dearbh thar nan linntean, a' cur beagan eòrna agus bùntata air na bha aca de dh'fhearann (stiallan caol air cùl taighean a' Bhaile), a' cumail crodh is caoraich na b' fhaide shuas an sliabh air an ionaltradh choitcheann, agus gu h-àraidh ann a bhith a' glacadh eun-mara air na creagan. Bha an t-iasgach mar as trice ro dhoirbh leis na sruthan cunnartach is na gèilean, agus gun bhàtaichean freagarrach. Phàigh iad am màl do MhicLeòid Dhùn Bheagain, leis a bha na h-eileanan fad ùine mhòir, ann an òla eun-mara, iteagan (gu h-àraidh iteagan-buthaid, airson mhatrasan), cloimh is clò, agus beagan eòrna, bainne is càise.  Chan fhaod gun robh mòran air fhàgail dha na Hiortaich!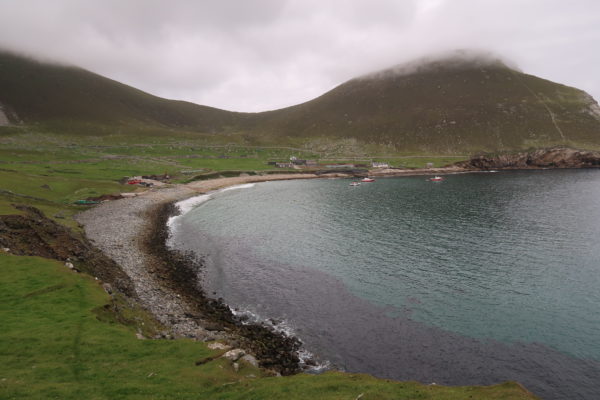 Agus gu dearbh 's e feòil agus uighean nan eun-mara a bha aca mar phrìomh bhiadh, gu h-àraidh sùlairean is fulmairean. Tha sinn uile eòlach air na dealbhan de na "fir nan creagan" le an ropannan, a' dìreadh mar eòin iad fhèin air na cas-creagan den phrìomh eilean (Hiort) agus de na h-eileanan beaga (Dùn, Sòthaigh, Boraraigh) agus stacannan-mara eile, obair chunnartach agus sgileil. Roinn iad na h-eòin a-mach air a chèile, a rèir meud an teaghlaich, agus às dèidh dhaibh a bhith air am plucadh agus an tiormachadh, rachadh an stòradh anns na ceudan is ceudan de chleitean air feadh an eilein – taighean-stòir bheaga cloiche mar sheann sgìopan-seillean.
Tha dealbh shuaicheanta eile a chunnaic sinn uile – an aon sràid den Bhaile, na sìneadh ann an lùb fhada fharsaing shuas os cionn a' bhàigh, far an robh am fearann as torraiche, an aon chothrom bàta a lainnseadh, agus beagan fasgaidh bho na gèilean. Tha na taighean, no an tobhtaichean, a tha rim faicinn an-diugh, gu ìre mhòr à dà linn-togail. Chaidh an fheadhainn nas ùire, le uinneagan nas motha, similearan, agus mullaichean zinc, a thogail mu 1860 (pròiseact coltach ris na council houses an seo ceud biadhna às dèidh sin), an àite nan seann taighean dubha, a bha an ceann nas ìsle na bhàthach-geamhraidh dhan chrodh – iad fhèin mar leasachadh nan àitichean-còmhnaidh fiù 's na bu shimplidhe romhpa. Chaidh na taighean dubha air am fàgail eadar na taighean ùra mar bhàthaich no àiteachan-stòir. 'S e sin a bhios tu a' faicinn an-diugh fhathast – tha Urras Nàiseanta na h-Alba, leis a bheil na h-eileanan o chionn 1957, air feadhainn de na taighean à 1860 a chàradh agus an cumail mar thaigh-tasgaidh beag (uabhasach math!) agus oifisean no àite-fuirich, agus a' feuchainn ri na togalaichean eile a cumail ann an "arrested decay". Thig faireachdainn fìor shònraiche ort is tu nad sheasamh san t-sràid fhalamh ud, am measg thaibhsean is an cuimhneachain.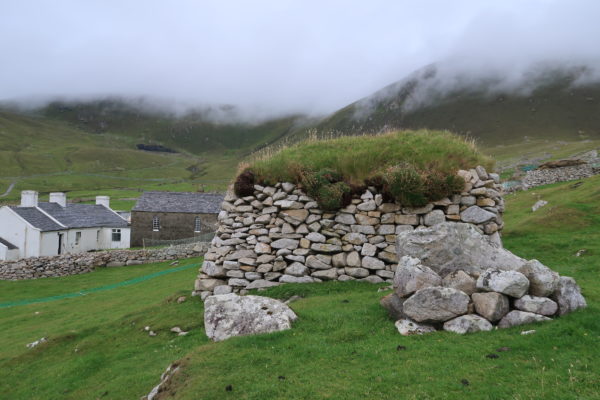 Agus carson a chaidh an t-eilean fhalamhachadh idir?  Thòisich na h-atharrachaidhean a bu mhotha aig àm nan stìomairean den linn Bhictorianach, a thug caochladh na b' fharsainge bathair às an t-saoghal mhòr, ach barrachd daoine cuideachd, nam measg luchd-turais airgeadach às na bailtean mòra a bha airson muinntir neònach, phrìomhadail an eilein iomallaich romànsaich ud fhaicinn.  Tha seann fhilmichean ann anns a bhios tu ag aithneachadh gun robh na Hiortaich dìreach mar bheathaichean cian-annasach san zoo dhan luchd-tadhail sin. Saoil dè bha na h-eileanaich a' faireachdainn?
Còmhla ris na daoine ùra thàinig galaran ùra cuideachd agus na h-eileanaich gun ion-dhìonachd nan aghaidh,  rud a lagaich an slàinte is an comas-seasaimh san fharsaingeachd.
Cha b' e ach ministearan agus uaireannan luchd-teagaisg a thàinig às an tìr-mhòr a dh'fhuireach anns an eilean san 19mh linn, agus 's e buaidh mhòr a thug iad air dòigh-beatha Hiort. 'S e Crìostaidhean a bha anns na Hiortaich mar-thà, ach tharraing an suidheacadh dùbhlanach mar as trice ministearan le eud miseanaraidh, a thug tionndadh seanaireachd gu sònraichte cruaidh leotha, agus chaidh na bha aig na h-eileanaich de chur-seachadan is dibhearsain, mar chèilidhean, òrain is sheanchas, a thoirmeasg a-nis. Mar sin dh'fhàs am beatha fiù 's na bu chruaidhe, agus a-nis tha cuid mhòr de na h-òrain is sgeulachdan caillte a-nis. Agus bha na tidsearan a' cur an ìre teagasg sa Bheurla an àite Gàidhlig, rud a lagaich an dualchas traidiseanta cuideachd, agus thug na h-eileanaich nas fhaisge air an t-saoghal mhòr. Tha an eaglais simplidh (1820an) agus an seòmar-sgoile (1890an) rim faicinn an-diugh fhathast mar a bha iad sna ficheadan.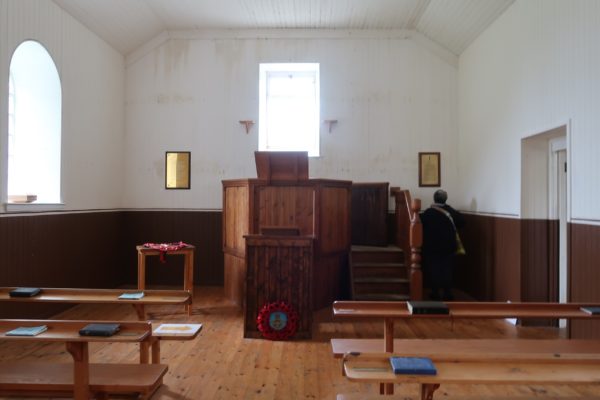 Beag air bheag thòisich daoine òga ri Hiort fhàgail, agus san Chogadh Mhòr thog a' mhòr-cuid de na fir dha na Feachdan. Cha do thill mòran dhiubh, agus ged a bha stèisean rèidio an nèibhidh ann 1915 – 1919, a thabhainn taic agus chothrom-obrach no dhà, cha b' fhada gus an tuit àireamh an t-sluaigh fon ìre a bha riatanach airson mairsinn beò mar choimhearsnachd. Mu dheireadh thall, le cuideachadh Nurse Barclay a bha ann sna ficheadan, dh'iarr na 36 a bha air am fàgail air an riaghaltas an gluasad chun na tìr-mòir. Thachair sin ann an 1930.
Cuiridh mi crìoch air an aithris seo an ath thuras – san eadar-àm, an dòchas gun còrd ribh na dealbhan!
+++++++++++++++++++++++++++++++++++
Most of you will be familiar with the story of the St Kilda evacuation in 1930.  I was lucky enough to go on a visit to the archipelago this year, a really wonderful trip. The islands are far out in the Atlantic, 41 miles from Benbecula and 101 from the mainland, but humans have been living there since the Bronze Age (traces still remain), even if not necessarily continuously. But it's not just the distance that takes you aback, it's knowing that they managed to make a living for so long in such an infertile and challenging environment, even on the main island, Hirta, where the people lived. That was my first thought when I saw the sheer precipices rising out the middle of the ocean, after 3 hours on a fast boat from Harris. How did they do it?
But they did indeed survive over the centuries, planting some barley and potatoes on the little fertile ground that they had (narrow strips behind the Village houses), keeping cattle and sheep further up the hillside on the common grazing, and especially by catching seabirds on the cliffs. Fishing was generally too difficult with the dangerous currents and the gales, and without suitable boats. They paid their rent to the Macleods of Dunvegan (long-time owners of the islands) in seabird oil, feathers (especially puffin feathers, for mattresses), wool and tweed, and some barley, milk and cheese. There can't have been a lot left for the St Kildans!
And it was actually the flesh and eggs of the seabirds that formed their staple diet, especially gannets and fulmars. We're all familiar with the photos of the "cragsmen" with their ropes, scaling the sheer cliffs like birds themselves on Hirta, the other smaller islands (Dùn, Soay, Boreray), and the sea-stacks. This was dangerous and skilled work. They divided the birds among themselves according to family size, and after being plucked and dried, they were stored in the many hundreds of cleits all over the island, small drystone storehouses like old beehives.
There's another iconic picture we've all seen – the one street of the Village stretched out in a long wide curve up above the bay, where there was the most fertile land, the only chance to launch a boat, and some shelter from the gales. The houses, or their ruins, which we see today mainly stem from two building periods. The newer ones, with the larger windows, chimneys and zinc roofs were built around 1860 (a project like our council houses a hundred years later) to replace the earlier "blackhouses", whose lower ends provided winter shelter for the cattle – themselves an "improvement" on the even more primitive dwellings before them. The blackhouses were left standing between the new houses as byres or storage space.  That's what you still see today – the National Trust for Scotland, owners since 1957, have restored a few of the 1860 houses as office and accommodation space, and are trying to keep the other buildings in a state of "arrested decay". It's a really strange feeling to stand in that empty street among ghosts and their memorials.
So why was the island evacuated? The greatest changes began with the advent of the steamers of the Victorian age, bringing a wider variety of goods from the outside world, but also more people, including well-off tourists from the cities keen to see these curious, primitive people and their remote, romantic island. There are still old films extant in which you realise that the St Kildans were like exotic zoo animals to these visitors. I wonder what they were feeling?
Along with the new people also came new diseases, which the islanders had no immunity against, and this weakened their health and resistance in general.
It was only ministers and sometimes teachers who came from the mainland to stay on Hirta in the 19th century, and they had a major influence on the island way of life. The St Kildans were already Christians, but the challenge of the situation tended to attract ministers with missionary zeal, bringing a particularly strict variety of Presbyterianism with them, and the little the islanders had in the way of pastimes and diversion, such as ceilidhs, songs and story-telling, were now forbidden. Life therefore became even harder, and many of the songs and stories are now lost. The teachers who came insisted on teaching in English instead of Gaelic, and that too undermined the traditional culture, and brought the islanders closer to the outside world. The simple church (1820s) and the schoolroom (1890s) can still be visited today, looking just as they were in the 1920s.
Gradually young people began to leave St Kilda, and in the Great War most of the men were called up. Many did not return, and although there was a naval wireless base there 1915-1919, offering support and some work, it wasn't long before population numbers fell below the level required to survive as a community. Finally, with the help of a Nurse Barclay who was there in the 1920s, the remaining 36 inhabitants petitioned the government to be moved to the mainland. This happened in 1930.
I'll finish off this account the next time – meanwhile, hope you enjoy the photos!
---
Tadhail air seaboardgàidhlig
Powered by WPeMatico